Selar Affiliate Network: Everything You Need to Know
With Selar Affiliates you can generate a custom link for your products which an affiliate will make use of
The Selar affiliate network is a marketing platform that allows merchants to boost sales of their products through effective affiliates.
Over time, affiliate marketing has proven to be highly effective in driving sales and generating significant revenue.
We've seen this importance and have decided to create a platform where everyone can earn.
For merchants, affiliate marketing allows you to boost sales of your products and increase your revenue. It's also cost-effective and allows you to pay based on performance. That is, only when a sale is made.
Being an affiliate, on the other hand, means that you are willing to earn commissions to promote products for people or companies.
How does Selar Affiliate Program Work?
The Selar Affiliate program is easy to use and has been automated such that immediately you make a sale, you receive your commission.
For Merchants
Merchants can take advantage of the Selar Affiliate network to promote their products. To get started;
Upload your product on Selar (If you haven't)
Add the email address of an affiliate on your dashboard. You can either bulk upload or add them manually.
Enter the commission you're willing to offer for an affiliate sale
Once this is done, Selar will send a custom link to your affiliates and whenever they make a sale, they receive their commission and you get your profit automatically.
For Affiliate
Once the merchant has added you to their Affiliate program, you receive a custom affiliate link that helps you track the sales you've made on a particular product.
Additionally, you have a dashboard where you can monitor views you've directed to a store, as well as the sales you've facilitated.
Alternatively, you can apply to be on Selar's Affiliate Network, browse through our list of high-ticket products, and earn your commission when you make a sale.
How to Create an Affiliate on Your Dashboard as a Merchant
Follow these steps to create an Affiliate program for your product.
#1. Log into your Selar account
Once you log into your account, click on the arrow at the top right corner of your page as shown below. When this is done, It drops down a list of options, click on "My Affiliates."
#2. Add an Affiliate
There are two ways to add Affiliates to your products. First is to enter the email address of your affiliate manually or to bulk upload. Afterward, input the commission percentage accruable to each affiliate once sales are made using their customized link.
Once your affiliate has been added, a unique link will be sent through the email provided to them. This link can then be shared with their audience.
For affiliate emails that aren't registered on Selar, a mail will be sent alongside a link for them to set up their accounts on Selar and log in.
For every sale made by your affiliates through their unique link, they earn a commission.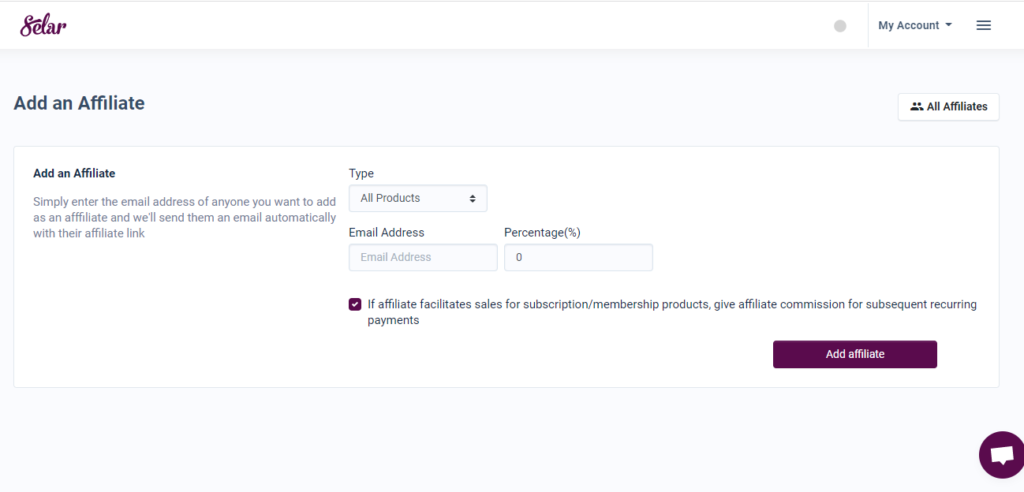 Selar Affiliate Dashboard
Once affiliates are added to the Selar affiliate network, they have access to a personalized dashboard. This allows them to monitor sales and see the number of views they have brought.
If they haven't set their bank account credentials, they'll see a view to set up their bank account information, which will be used for their wallet withdrawals.
They also get notifications via email once a sale has been made with their link.
Alternatively, affiliates can join the Selar Affiliate network by visiting the Selar Affiliate program. This costs ₦2,000/year.
How do Affiliates Get Their Money?
When a sale is facilitated, the affiliate gets their commission paid into their Selar wallet based on the settlement schedule of the currency. ( A settlement schedule is the time frame it takes for the money to be available after a sale is made.)
There are different settlement schedules for different currencies, E.g. for Naira (NGN) transactions, the funds become available a day after the transaction. So if an affiliate facilitates a sale in Naira (NGN) today, they'll have the funds in their Selar wallet tomorrow, and they can withdraw the funds to their bank account right from their dashboard. You can see all the settlement schedules for all currencies here.
Marketing your product through affiliate marketing or making money does not have to be difficult. Selar understands this and has made the process easy for everyone.
All you need is to follow the aforementioned steps and you are on your way to making massive sales.